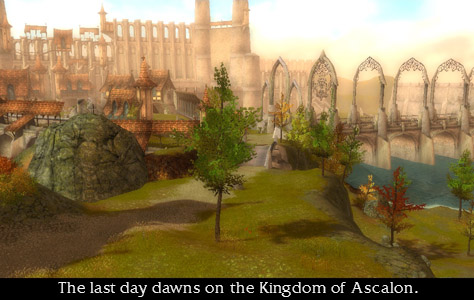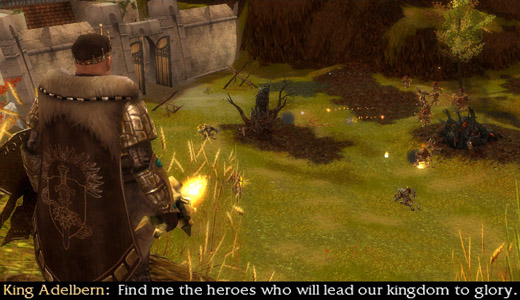 Once there, choose Accept to get 100 EXP. He now gives you new orders, and tells you that he'll have a trainer (doesn't matter which class you are) waiting outside the city gates. Well, first things first. Behind him (sort of) is a bridge of sorts. Cross that (you are now on the second level of Ascalon City, for future reference), hang a left, and go towards the second set of steps leading down (they're at the other end of this area). Go down them, then go right twice to find Namar, who's just another dude with an exclamation mark over his head. He may be a Krytan (old-time enemy of Ascalonians), but his stupid rent quest gives you a whopping 500 EXP. w00t! Alright, turn completely around to see the main gate to enter Lakeside County. Directly behind that are the main stairs of Ascalon City. Go up to the third level and talk to Baron Egan up there for another quest in which you have to recover a stolen chest in Ashford County. Next to the Baron you'll find an NPC simply named Guild Registrar. You can talk to him to create a guild of your own if you do not wish to join someone else's guild. More information on guilds can be found on the third page of the How to Play section of this walkthrough (linked at the top of this and every other GuildWars Walkthrough page). Now, turn around again and head out the main gates.

After killing the bull, Old Mac appears near the main gate. Wait for him to amble up to Althea and finish yelling at her, then talk to him to find out that the bull protected his farms, and he's pretty pissed off that you killed it. But! He'll call it even if you find him a Devourer Egg, so there's another quest right there (Brownlow, the belt pouch collector dude, will give you a Devourer Egg for five skale fins, but you can get two eggs for free in a minute). I don't suggest returning to Althea for your reward unless you're either a mesmer or want to take mesmer as your second profession (you can do all of the secondary profession quests for more EXP without committing to a second profession right away). If you don't want to be a mesmer, then either wait until after you get your second profession to talk to her for your EXP, or accept the reward but then click on the "I need more time to decide" (or whatever it says for that option now) to avoid netting a secondary prof before you're good and ready. I really recommend first-time players to do all the secondary prof quests for other reasons besides the EXP, as they give you a taste of what the other professions are like, and thus will allow you to make a better decision about that later on.
Continue northwest (just so you know, most things in Lakeside County won't attack you unless you attack them first, providing they're under lv 2) along the city walls until you happen upon Gate Guard Torin, who's... by the gate (down below) (by the way, pick up any Red Iris Flowers you see. They're worth a decent amount (5g may not seem like a lot, but when most weapons you get are only worth about 1-3g each... well, you get the picture. You'll also need a few later for Gwen's "quests")). Accept his quest... but you need another party member to be able to do this. Go kill some more skales now that you have some shiny new spells. Once you've either gotten your belt pouch or are sick of skales, re-enter the city.





Now, from where you got the Beautiful Pearl (by the way, you can collect all the items again to sell them to people who are too lazy to get them themselves (Rurik is setting a really bad example) or don't know where all the items are) go north, up the tree trunk, right down the road, then hang a left into the grass right before the bridge/portal. Go north here until you see two people standing outside of a cave. Talk to Duke Gaban, then go kill stuff inside. Kill everything inside while leading Fadden to Devourer Eggs (no, he won't die) and you'll eventually also complete the Poison Devourer quest. Sometimes when leading Fadden you have to go over to the other side of the eggs from where he is in order to get him to actually pick them up. Once Fadden has collected three eggs, go outside and Duke Gaban will reward you with two (I'm not entirely sure giving away 2/3 of his product for free is the best business model ever, but hey, his loss is your gain). One egg goes to Pitney, and the other to Old Mac (remember him?). OK, go to Pitney, then follow him to the fields northeast of the abbey. Kill off the Worm Queen when she shows up (she pops up about two seconds after Pitney kneels, right in front of him, and is only slightly larger than the other wurms in the field), then get your reward. Talk to him again to get another quest. Now we're going to finish off a quest we got about 1,000 years ago (only slight exaggeration). From these fields, go east to find a bandit camp, but don't go in yet! Hold down Alt and click on the Ashford Strongbox. Now, run in from the right, dodge the bandits, pick up the box you've locked onto, dodge some more bandits going left, then run in a circle back to where you first clicked on the box then... RUN TO DEVONA! RUN LIKE HELL!! AAAAAAAHHHHHH!! They stop chasing you after awhile though, and running around like a chicken on fire is a lot easier (and safer) than fighting them off, especially if you're of a profession with low defense (i.e., casters). If you're around lv 5 or higher, however, these guys aren't really that difficult... anyway. Return the box to Devona to get your reward. Return to that bridge we took a left in front of earlier, and cross it to go through the portal into Regent Valley.
Return to the Abbey, then enter the other portal in here to reach the Catacombs.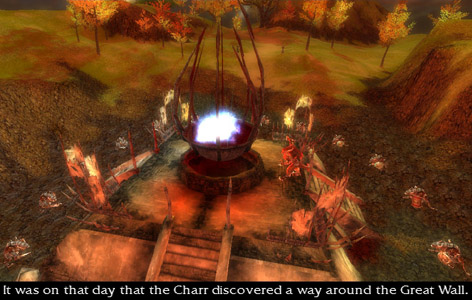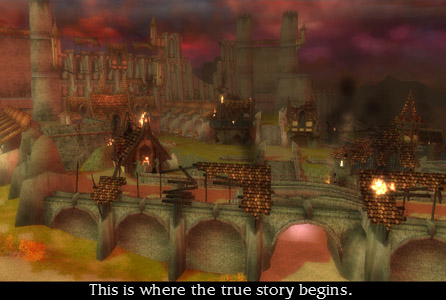 Everything Went [BOOM]